Or, digging out some old words
As it's New Years Day, time for a new start and all that, I've … er … done what I said I was going to do back in November, and started to pull out posts from my previous blog, of twenty years ago, edit them and post them on here.
In my mind, this blog and that blog are effectively equivalent, so it's strange to realise that I only kept that site going for two or three years or so. Compared to the not-quite-one-thousand posts on here, the old blog was hardly anything. Nevertheless, I still think it's worth copying over some of the highlights, not that any of the handful of posts moved so far count as highlights. So far I've done March 2002, starting from the start, but starting a project is half the battle if you ask me.*
In the meantime, while I do more editing, there haven't been many photos posted on here lately. So here's one I uncovered on the old hard drive, from the Edinburgh period of my life. Going by the filename, this was taken in the Holyrood Tavern, which dates it to around 2003, before it changed hands and most of the regular clientele moved over to the Auld Hoose instead. I hope none of the people in the photo mind; but they're probably a bit too blurry for a stranger to recognise them anyway.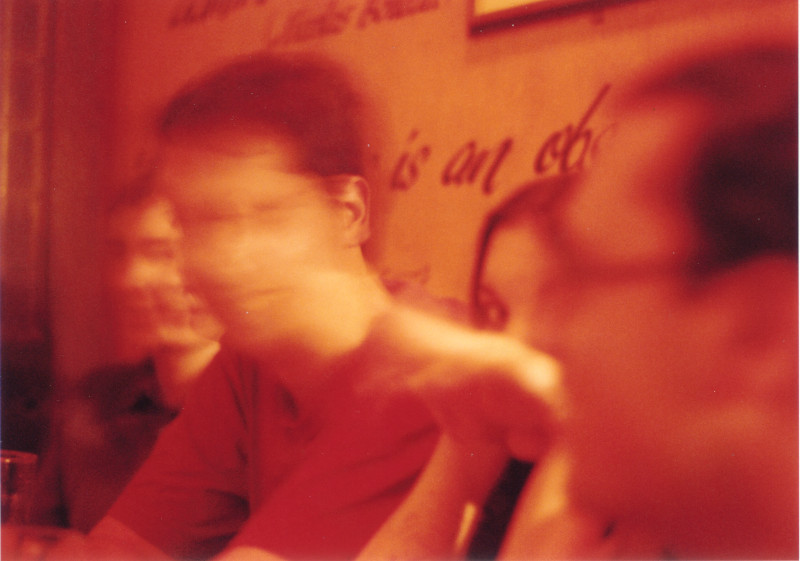 Happy New Year!
* The Plain People Of The Internet: Is that why you never finish any?