Or, going to a gig for the first time in a long time
There's nothing quite like going to see a gig, is there? I haven't been to see a gig in years—let's not even count them—but there's still nothing quite like the thrill of going into the dark venue space and seeing the empty stage all set up and ready.
There's nothing quite like going to see a gig in a little local venue, is there? I mean, the sort of venue that is a properly local space for new talent to practice and learn their stagecraft, the sort of venue where there isn't a backstage, the bands have to squeeze through the audience to get on and off, and the stage is really just a raised area at one end of the room.
There's nothing quite like going to see a band that you've loved for years, either, is there? The sort of band that you loved in your teens and you still love their new material now, because they've grown and developed as you've grown and developed.
So when I heard that Echobelly were playing Le Pub in Casnewydd/Newport, obviously, I had to get a ticket. I've been listening to Echobelly ever since their early single "I Can't Imagine The World Without Me," which I bought in cassingle format in its first week of release.* For my first gig in many years to be one of my favourite bands, at a tiny little venue, it seemed as if all the stars were in alignment.
The support were a local band called Murder Club, an excellent four-piece group who call themselves "the quiet grrrls of riot grrrl" and who might well end up being the next big thing on the South Wales music scene, even though it's a crowded place. Their drummer was also doing duty checking tickets on the door, and their keyboardist said: "Thank you for coming to our gig!" to me as I went in. It was just a shame their set wasn't a bit longer, because their songs were great.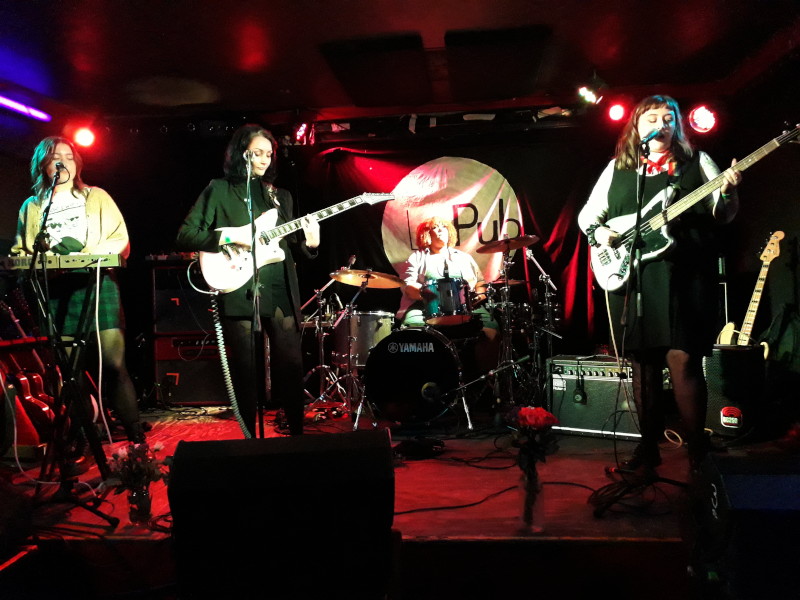 After Murder Club had left the stage, the room started to fill up** as Echobelly started to put their equipment together. Until, finally, all went quiet, and the band squeezed their way through the audience and into position. And then, it was time.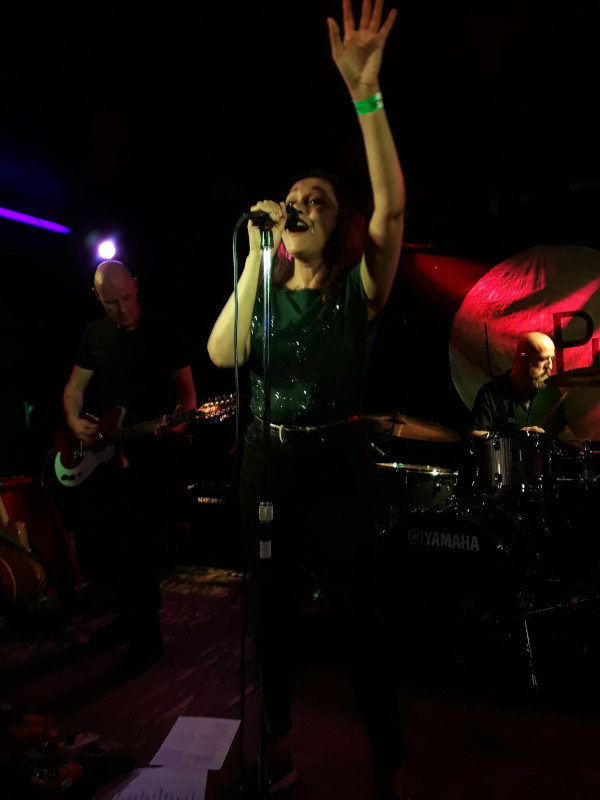 Given what I said at the start, you can hardly expect this to be an impartial critical review.*** As soon as Sonya Madan sang the opening line of the first song—I think it was "Gravity Pulls"—I was bowled away. To hear songs I've heard the recorded versions of time after time after time, sung live, with the band only a couple of feet away from me, was almost overwhelming. I must have been grinning like a loon throughout.
"I can't bounce about on stage like I normally would," Sonya apologised. She'd fallen off the stage at their previous gig, apparently, and one foot was still recovering. Still, she managed to move about and take full control of the stage, even if she couldn't really be seen from the back of the room. The whole band clearly loved being there to perform, and Sonya encouraged everyone to join in with a couple of the more anthemic songs, such as "Great Things" and "King Of The Kerb". "We love to hear you sing along," she said.
A couple of photographers were slipping in and out of the crowd, recording as much as they could. I did pull my phone out of my pocket every so often and try to take a quick snap or two, but as I was concentrating on listening to the music, the results are almost all terrible.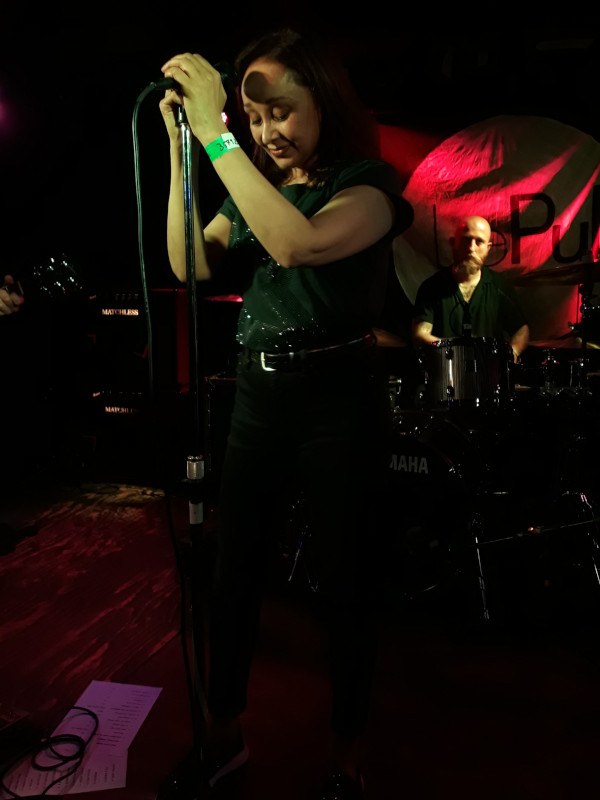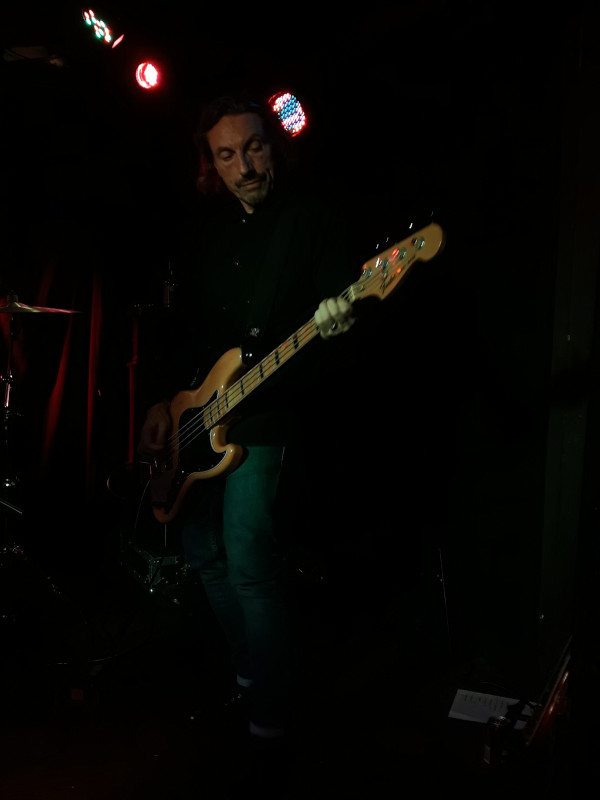 I wasn't there to take photos, though, I was there to gather memories.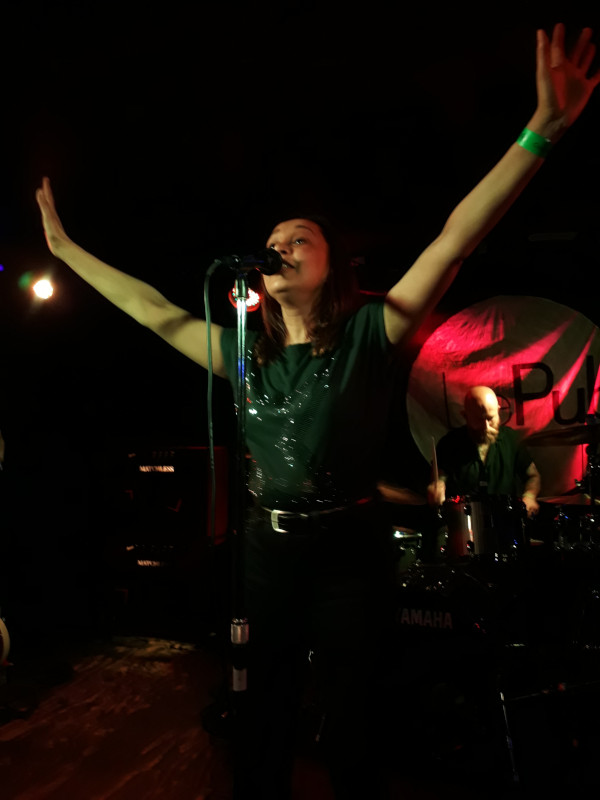 Sonya admitted they couldn't be bothered—given the state of her foot—to pretend they hadn't planned to do an encore. They played the "final song", took their applause, then after some slightly comic and sarcastic chants of "More!" from the audience, went into the encore. The main set ended with "Scream", the encore with "Dark Therapy". Both are among my favourite songs of theirs, and I couldn't have chosen better ones to end on. For my first gig in many years, it was a perfect night.
* It wasn't the first Echobelly release, but it was the second single from their first album. They'd released an EP and another single before that.
** As an aside here, I'm always a little bit disappointed when people get tickets for a gig and only bother to see the headline act. So many people do it, and it's such a shame, because it's really important to support bands when they're on the way up as well as when they're at the top. Mind you, maybe I'm biased, because at the very first gig I ever saw, the support act was an unknown (to me at least) local band who went on to become major international stars.
*** You might also have noticed I didn't give you any clue at all what Murder Club actually sounded like, which would make it a pretty rubbish review really.