In which we spot something getting under way again
Fans of supernatural TV drama series Being Human, currently making its move up the channels to BBC1, might be interested to know that location filming for its second season is just getting under way.
How do I know? Because, on my way home yesterday, I spotted a chap tying up temporary road signs for the benefit of lost Being Human crew members. They're bright pink, so you can't really miss them.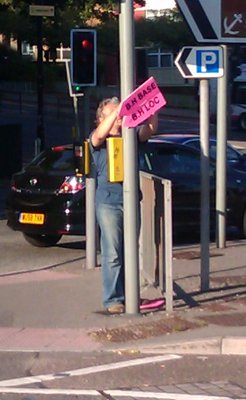 These particular signs are on Bedminster Bridge. "BH LOC" is pointing towards Bristol General Hospital, one of their main shooting locations. "BH BASE" is pointing, presumably, towards the expanse of waste ground waiting to be developed between Cumberland Road and the new museum: that's where the shoot's trailers all parked up when they were shooting the previous series, so I assume that's where they are now.