You know the saying about buses, of course. I hadn't been to a gig for years until the amazing Echobelly one last month, but then only the other day another one came along. To the Trinity Centre in inner-city Bristol, this time, for Saint Etienne.
Ironically, although I'm now several hours away, this time last year I was living within relatively short walking distance of the Trinity Centre; in fact, it was on my walk to work. It felt slightly strange coming back into my old neighbourhood for the gig, parking in the big shopping centre on the edge of town and walking down River St, Wade St, down to Lamb St, exactly the route we used to walk home from the city centre. The Catholic church, with its sign "No parking except for priest & disabled" still unchanged. And then the Trinity, opposite the angular red-brick police station, standing up in the night like a worn and broken tooth.
I hadn't done anything to find out who the support act for Saint Etienne would be, so was rather pleased to arrive and discover it was someone who I would have happily paid to see in her own right: Jane Weaver. She slipped onto stage in shiny silver trainers, taking up her spot behind her keyboard before starting to show off the range and the peaks of her amazing voice. "Hey up," someone shouted from the audience in a vague approximation of Weaver's Lancashire accent.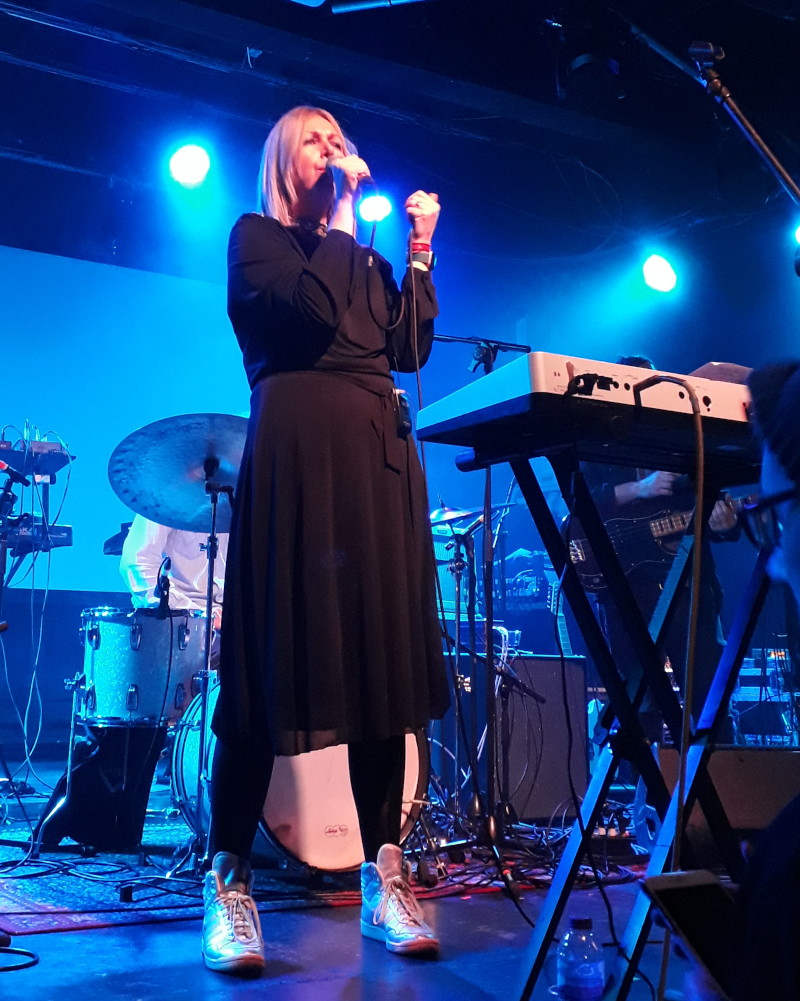 Lovely though it was to see Jane Weaver live, I wasn't really there for her and her band. I've been a fan of Saint Etienne since their second album So Tough, the one punctuated with audio clips from classic British films like Billy Liar and Peeping Tom between songs. I can still, I think, remember lying on my bed listening to it for the first time, on a cassette I'd probably just bought from Our Price or Andy's Records, holding the dark green inlay in my hand.* Naturally, when the band and their backing band started to file onstage, I was already excited. They opened with "Like A Motorway", which I've mentioned briefly in the past before going into "Mario's Cafe", the opening track of So Tough. I was in heaven. If you'd ever told me, back when I first heard its opening words, that a few decades later I'd have been in the front row listening to the band play that song live: well, I'd never have believed you.
Saint Etienne seem a bit overlooked sometimes. "Are they French," the guy on the merch stall had said to me whilst waiting for the card machine to work. "Someone behind the bar told me they're French." At the very point in time that British "indie" music flooded the world with guitar riffs, Saint Etienne released an album which mixed folk melodies with dance beats and dark, morbid lyrics.** Nevertheless, they have kept going, and rather than focus purely on music have produced what could almost be a gesamtkunstwerk body of art encompassing music and film. You could never mistake them for being French, when so much of their work is devoted to the psychogeography of the Atlantic Archipelago in general and London in particular. I first heard about The London Nobody Knows through Saint Etienne.*** They have started producing films to go with their music: the latest features landmarks such as the Humber Bridge and Scunthorpe steelworks. All that time, though, they're still themselves. Just as essentially I'm still the same person as I was in 1993 when I first listened to So Tough, they're the same band too.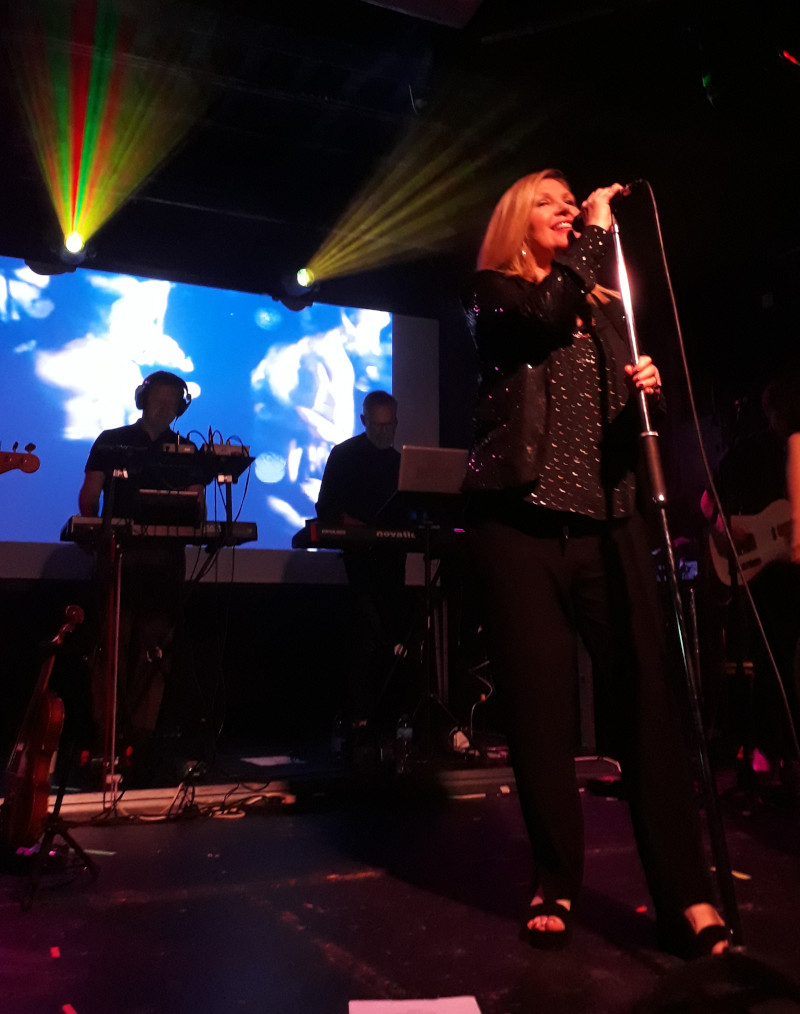 The three band members do need quite a lot of backup, to reproduce their album sound when playing live. The three band members are supported by a five-piece backing band, including their regular second vocalist Debsey Wykes, formerly of the band Dolly Mixture—she's been providing additional vocals for Saint Etienne tracks since at least 1993. If you weren't a fan, if you didn't know what you had come to see, you could be forgiven for not realising which of the people onstage are the core band, given that Bob Stanley and Pete Wiggs both stay at the back of the stage behind their laptops and synths. Bob is older but is still one of the cutest-looking guys on the UK music scene; Pete now has the grizzled beard of a Victorian lighthouse keeper. They say nothing on-stage, other than a wave (Pete) and thumbs-up (Bob) when going on and offstage. Sarah Cracknell is left to stand up-front and do all the talking between songs.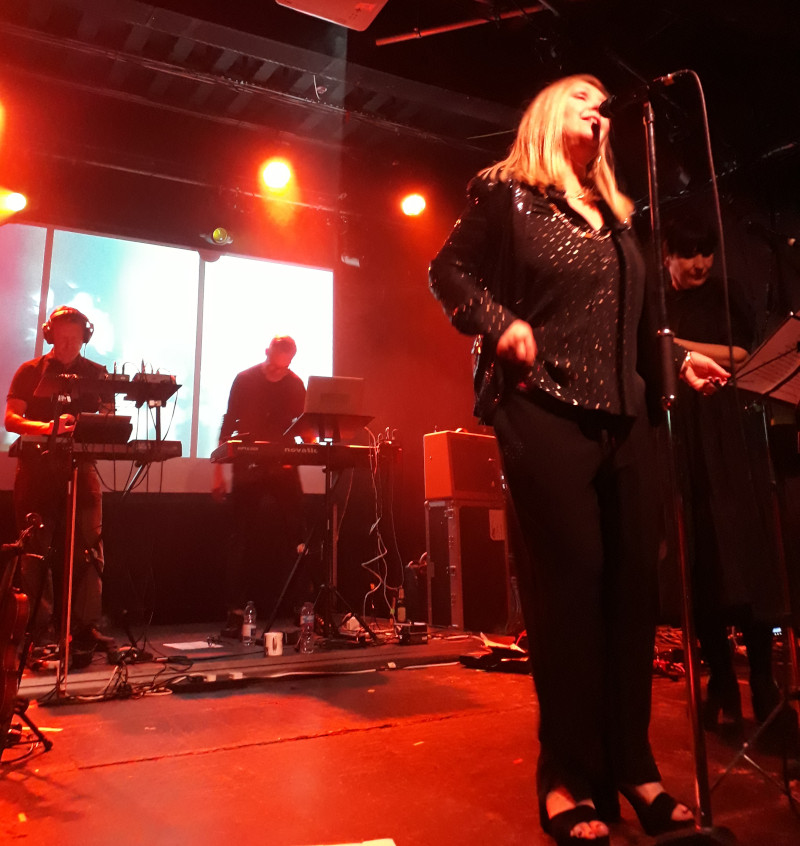 If you were a fan, though, then the band had certainly put together a good setlist. This wasn't one of those gigs where a band with a new album to promote will only play the new stuff and little else. If it had been, it wouldn't really have been a very long gig in any case, because the new Saint Etienne album is only about 40 minutes long. The main set only contained a couple of tracks from it, with everything else spread across the band's whole discography. I can understand why Sarah needed a lyric sheet for the complex spoken-word passage in "Girl VII", one of the tracks included from the band's first album Foxbase Alpha, recorded over thirty years ago now; if anything, the setlist was focused firmly on the band's first ten years or so much more closely than anything since. They encored with new Christmas song Her Winter Coat,**** followed by their mid-90s hit He's On The Phone, the band's translated take on the mid-80s Étienne Daho song "Week-end à Rome". "The thing to do when you're really hot," said Sarah between songs, "is put on a feather boa."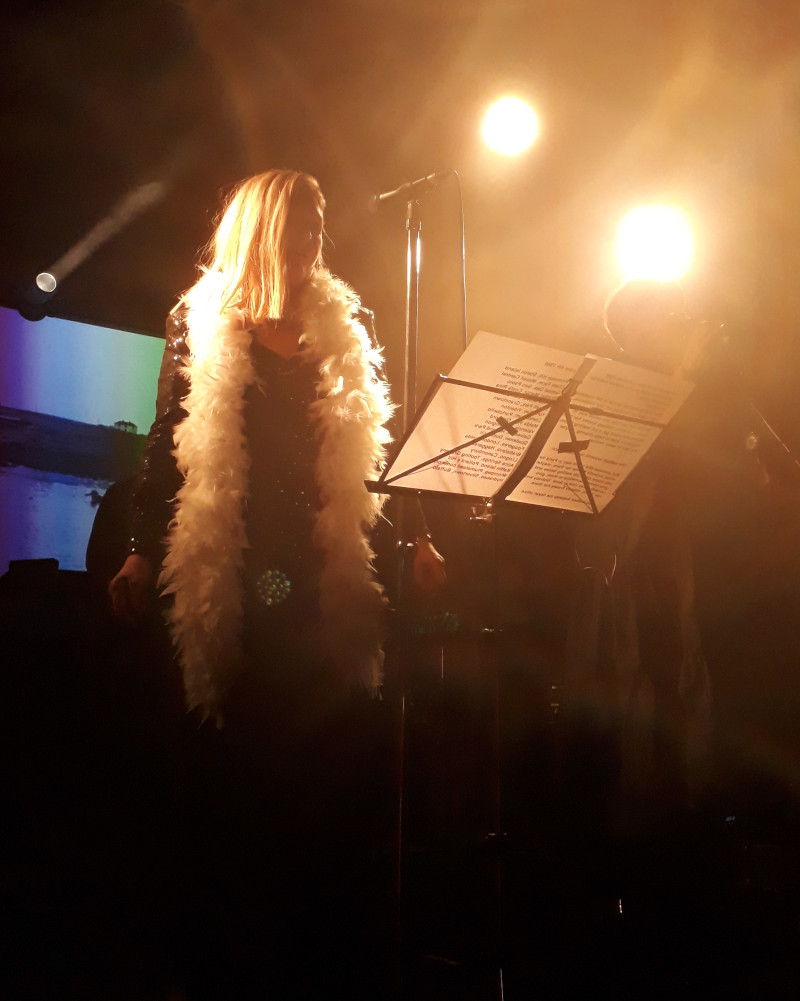 A second, well-deserved encore, and the gig was over.
For some reason, I'd never ever thought, in my head, that I would get the chance to see Saint Etienne live. I suppose, subconsciously, I thought of them as too much of a studio band, too concerned with electronic effects, soundscapes and found sounds that would always work best in the context of recorded pieces. Naturally, they left out anything with a guest vocalist on it—apart from "Only Love Can Break Your Heart", which sounds just as good with Sarah replacing its original vocalist Moira Lambert, and "He's On The Phone", which did feel to have a bit of an empty hole without the French-language spoken-word passage originally provided by the song's composer Étienne Daho. I didn't mind; I don't think anyone minded, although the wide range of people in the audience screaming out to request "Hobart Paving" as an encore were inevitably disappointed. I was tempted to shout out for "I Was Born On Christmas Day", which also had a guest vocalist;***** but any band heavily-dependent on programmed music is going to be unlikely to be able do impromptu requests in any case. This wasn't quite as thrilling a gig as the Echobelly one last month, or as intimate a gig as the Echobelly one either; but, as something I thought I'd never experience, as something that also touched on such a large proportion of my life, it's definitely up there as one of the most amazing gigs I've experienced. Top five, say. Top five, definitely. I wouldn't have missed it for the world.
* In the weird, associative way that memories work, I also associate my first listen-through of So Tough with reading vol. 1, issue 2 of Modelling Railways Illustrated magazine. Entirely plausible, because both are from 1993.
** If you didn't follow the link, I previously described "Like A Motorway" as a brave attempt to revive the 1960s "death disc" genre: it's about a woman breaking the news of her boyfriend's suicide to people. "Hate Your Drug", one of the B-sides recorded at the same time—it was released on the single "Hug Your Soul"—is a beautiful song which seems to be about a teenage girl in a coma following an overdose.
*** I thought I'd written about The London Nobody Knows here before, but it turns out I wrote about it very, very briefly on the old blog. So that can be a story for another day.
**** When I first heard "Her Winter Coat", live at the gig, its slow buildup of instruments reminded me somewhat of the Belle and Sebastian song "This Is Just A Modern Rock Song". The Hebridean video can't really have helped with the association in my mind. It doesn't sound anywhere near as similar on the recorded version of the track.
***** Tim Burgess, in case you were wondering. Yes, the "Tim's Twitter Listening Party" guy. Oh, in case you didn't realise, the title of this blog post is a lyric from "I Was Born On Christmas Day" too.