But without any other explanation
Back in March, I wrote about the colour of the Afon Ebwy, and what it might contain, based on a guide to camping I read as a child which included a dire warning about Alpine river water. A dire and entirely unexplained warning.
Well, visiting The Mother the other day, I managed to dig up the original book with the warning in it. So here, along with some other advice about where to pitch your tent, you go: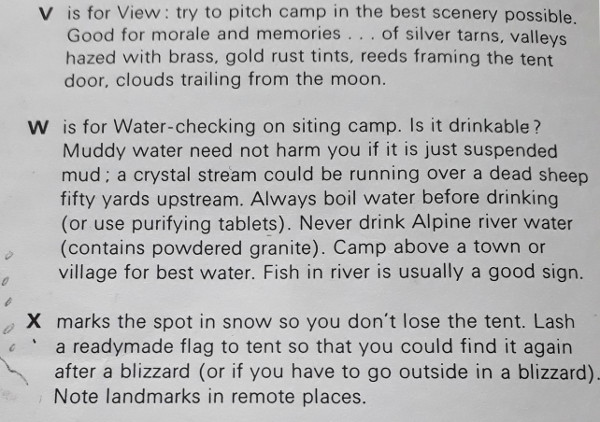 (for accessibility, the full text is transcribed further below)
The Plain People Of The Internet: So what does this thingy do, then? Turns you to stone? Petification?
I'm not sure that's entirely what that means. And I'm still not entirely sure what it might lead to. A brief search of the internet has not thrown up any obvious risks it might lead to, only to people worried slightly about food prepared with granite mortars. But remember: if you're going camping in a blizzard, make sure you fasten a flag to your tent so you can find it. Or, you know, maybe reschedule that trip?
The book, should you want to hunt down a copy, is Illustrated Teach Yourself Camping by Nigel Hunt—published 1969 by Brockhampton Press and withdrawn from library stock in 1985 at which point I assume it came to me. I'm not sure I'll ever want to get rid of it, despite how dated and idiosyncratic almost every little bit of its advice now is. But not all of it.
That's the end of the post proper; here's a transcription of the photo above.
V is for View: try to pitch camp in the best scenery possible. Good for morale and memories … of silver tarns, valleys hazed with brass, gold rust tints, reeds framing the tent door, clouds trailing from the moon.

W is for Water—checking on siting camp. Is it drinkable? Muddy water need not harm you if it is just suspended mud; a crystal stream could be running over a dead sheep fifty yards upstream. Always boil water before drinking (or use purifying tablets). Never drink Alpine river water (contains powdered granite). Camp above a town or village for best water. Fish in river is usually a good sign.

X marks the spot in snow so you don't lose the tent. Lash a readymade flag to tent so that you could find it again after a blizzard (or if you have to go outside in a blizzard). Note landmarks in remote places.