The line was certainly longer than usual. More spaced out. Not that I knew what "usual" meant, of course. Yesterday was the first time I'd been to this polling station—the first time anybody had, I think, because the city council has reviewed and rebalanced and rejigged where they all are.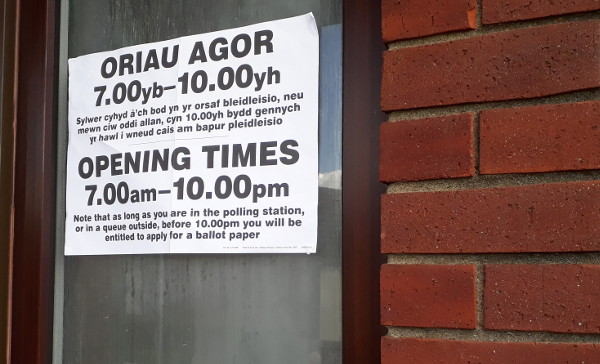 You could say I was lucky, really, moving house just a few months before a Senedd election. Getting to vote for my national representatives straight away, rather than having to wait a few years. It was all very well organised, to be honest. In general in my experience people in this part of Wales have been doing social distancing and similar much better than people in Bristol; here, for example, people will cross the street or walk into the middle of the road to avoid passing someone on the pavement, whereas I don't think I've never seen that happen in Bristol. The queue was nicely spaced out, with most people wearing facemasks well before they reached the chapel door. A woman on the door was carefully regulating admission, making sure there were never more than three voters inside the station at once, one collecting their ballot papers and two actually voting.
So who to vote for? As I said a few months ago, British politics is in a fairly terrible state right now; a dangerous state, you could say, in which populist reactionary Kulturkampf seems to be winning out over any sort of belief in honesty or integrity. It's a depressing sight, in a situation where however awfully the Prime Minister behaves, however angry he gets at the thought of being held to account, any attempts to try to hold him even slightly to account seem to fail to make any impact on the voting public.
However, the awful state of British politics is very much the awful state of English politics. In Scotland and Wales the situation is somewhat different. In the former reactionaries are desperately trying to stop the country following its natural path to independence; here in Cymru, the Labour government is in the strange position of dealing with one opposition whose main selling point seems to be pride in their own inability. "We want to be leaders," they seem to be saying, "who know we're no good at leading, who want to give all our power away." It's embarrassing, every time the Welsh Tory leader speaks, to hear just how much he shows off his own anxieties of inadequacy and incompetence. On the other front, support for independence is understandably growing but it doesn't seem to translate into support for Plaid Cymru.*
At the time of publishing this post, only a handful of the Senedd results have been declared and it's far too early to say what the final numbers for this Senedd will be once the regional papers have all been counted and seats allotted. Hopefully, though, we'll continue to have a sensible and compassionate centre-left government, ruling for the benefit of everyone in the country. If only England was so lucky.
* As an aside, one thing that annoys me slightly is the habit the press have of abbreviating PC's name to "Plaid", because that just means "Party".