We had an unexpected visitor in late July. One morning, as I was heading out for my morning 6am walk, I noticed one of the neighbourhood cats lurking outside the house, asking for scratches and strokes. When I came back an hour or so later, it was in the back garden instead. I opened the back door, and it followed me inside. It prowled the kitchen, miaowing boldly, before deciding to lie down as Guardian Of The Recycling.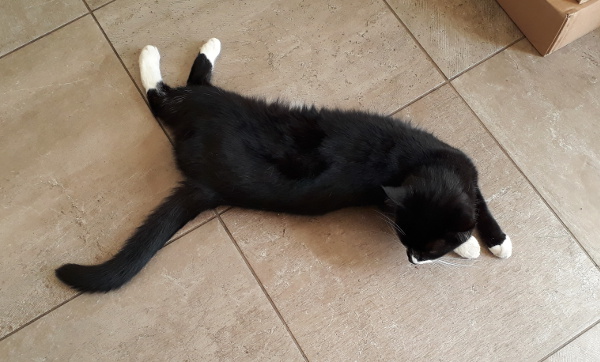 It came back again the following morning, and the morning after, and started to explore more of the house. Initially it refused to go upstairs, and if anyone went upstairs would sit at the bottom waiting for them to return; but after a week or two it was happy to roam the whole house and particularly liked lurking among the clutter in the office.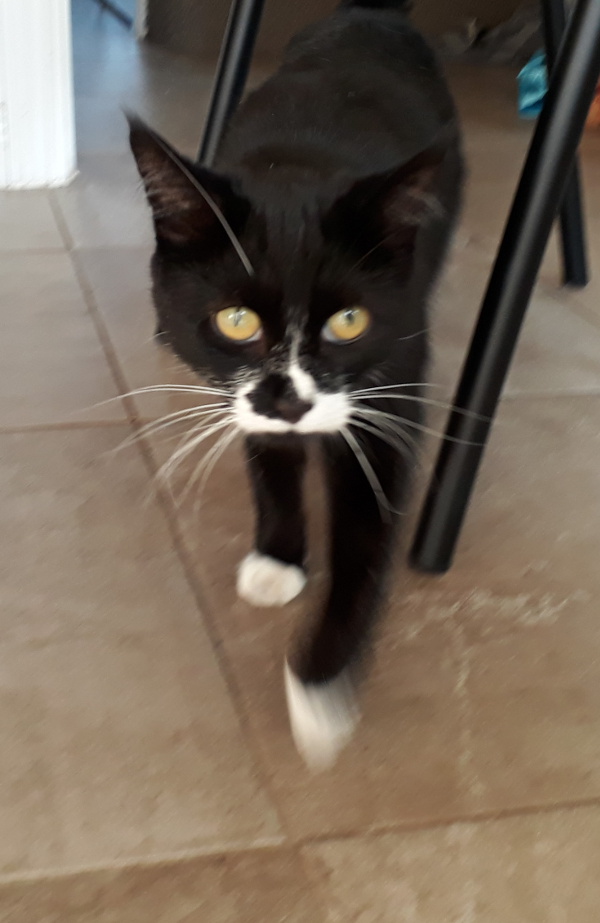 The Plain People Of The Internet: So is this one of those situations? The whole "this is your cat now" situation?
I doubt it is, somehow. It's clearly a healthy, happy cat that has a home nearby. It doesn't need food from us, and I haven't given it any. Moreover, as one of the other regular correspondents has pointed out to me: if Random Cat is a much-loved household pet, tempting it away to another home is not exactly a very neighbourly thing to do, however friendly it seems to be and however much it stands by the kitchen cupboards miaowing at me.
Why has Random Cat been visiting, anyway? I realised its visits started in late July, at the same time as the school summer holidays. Maybe one local family's routine changes so much in the school holidays that Random Cat can't cope with not getting its breakfast early, and decided to scout around the rest of the neighbourhood instead. Possibly, then, now we're into September and the schools are going back, its visits will start to dry up again.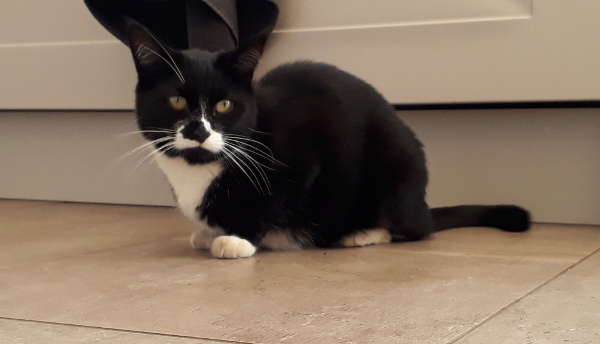 Ever since moving house, we have said: we really should think about getting in touch with the local cat shelters and finding one to actually live here. That, in all likelihood, will stop it visiting, although it's not guaranteed. My garden is already disputed territory between Random Cat and another neighbourhood cat, an all-black one which likes to sit on the roof of a nearby shed. They have face-offs balancing on top of our garden fence. A third cat thrown into the mix might not even change very much.
If we do get a cat to live here, no doubt this blog—and certainly the rest of my social media—will become rather heavily cat-centric, at least initially. For now, though, occasional Random Cat will have to do.