In which the shocking news is that I have finished a craft project
The other day I mentioned a Christmas social event at the office: an organised crafting event for any colleagues who were interested to do a small cross-stitch kit together. Amazingly, in just over a week, I've managed to finish it. I would say that's a personal record at finishing some sort of craft project for me, but it's rare enough for me to complete one at all.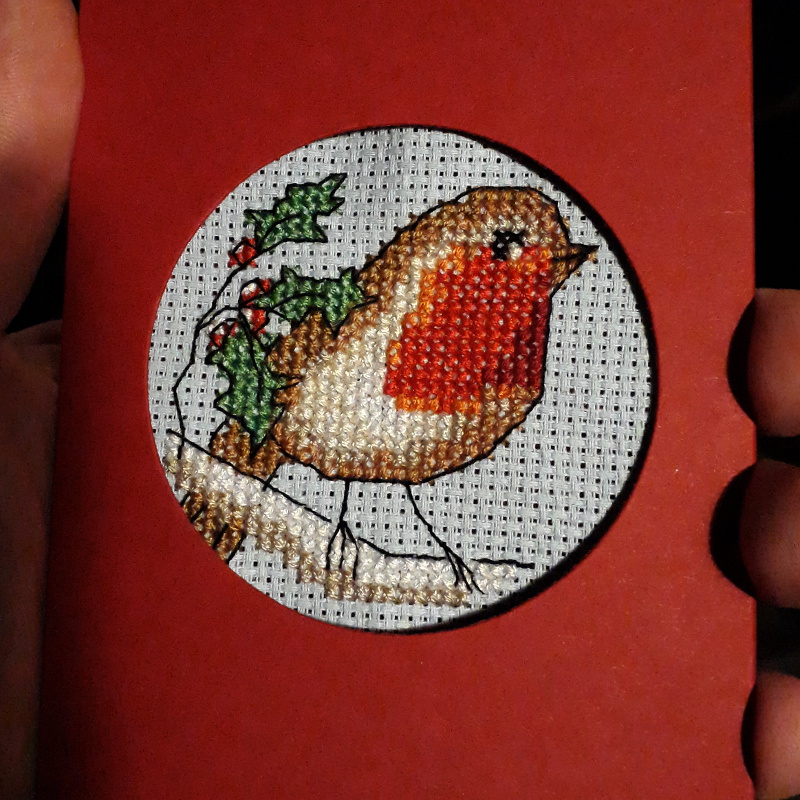 Personally I think it's a bit scrappy; I can see lots of uneven and slightly wonky stitching, whole patches where the threads are making strange knots insted of neat crosses.
Moreover, if you compare this to the previous "in progress" picture, you can see I did get annoyed enough to go back and redo an entire section. Misunderstanding the instructions and the nature of the thread, when I started I started off stitching the red breast with only a single thread, not doubling the thread up as I was supposed to—my excuse is that each of the "single threads" are actually spun from two threads twisted together. Unpicking all the red also involved accidentally unpicking some of the orange too, so if you know where to look you can see a few places where stuff has been redone a few times.
Will I go on to do more cross-stitch? Well, it was a fun way to spend a few evenings. Maybe if I can find some more kits that aren't irredeemably twee, I might do.