This blog has been quiet since the end of last year. If you're a regular reader of the main blog you'll be aware that in February I left the garden behind and made a new start, with a new-to-me house and garden, in South East Wales. Nothing has changed in the garden of the new house since moving in; there hasn't been anything to post here, and there's a good reason for that which I'll come to in a moment.
I'm writing this today, though, because right now it's the middle of the 10th UK National Gardening Week. This year's event, understandably, is themed around wellbeing, about the benefits that gardening can bring to both your physical and mental health. It doesn't, of course, have to be your own garden; you can get the same benefits from community and public gardens too.
The garden here, on the other hand, is something of a barren empty space at the moment.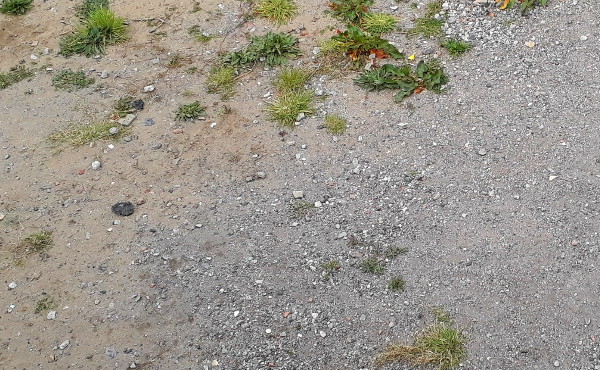 On the upside there are plenty of dandelions for the local bees, and a few patches of clover and Herb Robert, even if the rest is a barren stony, sandy desert.
This garden is much bigger than the tiny scrap we had previously, and I'm sensible enough to realise that making over a garden of this size completely from scratch is probably beyond me: even if I thought I could take it on myself, I'd probably not get it finished this decade. However, even if we have had to reach outside for some help with the basics and the layout, there are plans in hand to transform it and create a space that both evokes the same atmosphere as the previous garden did when it had matured, and that we are able to change and evolve over the coming years. I'll go more into the thoughts behind that further down the path, when change has started to happen.