This week, it really feels as if the garden is properly getting itself going. More and more insects are out and about, and more things are starting to come alive. The lettuce and calendulas sown three weeks ago have just made their first appearance above ground, and the pea seedlings which have been growing on the kitchen windowsill are getting larger and larger, stretching their tendrils like the most grotesque of scarecrows. Today I started hardening them off ready for planting out; I probably should have done it earlier.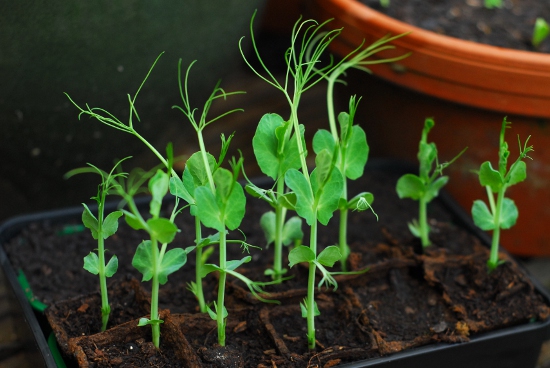 More peas will start germinating soon. The first batch of this year's potato crop went into the ground today too – well, into their container. This year we picked Red Duke Of York, as something we are unlikely to see in the greengrocers, and I've tried to squeeze four tubers into the container rather than last year's three. The second batch will be planted in about a month's time.
To get the potatoes, we popped over to the Riverside in Southville. Naturally, we were rather tempted by their selection of herb plants. Possibly too tempted: intending go there purely to get potatoes, we also came home with a black peppermint, some sweet peas, and two fennel plants. The fennel is instead of the dill we grew last year; I will explain more about that later.