There haven't, as you might have noticed, been that many posts on here in recent weeks. One reason for that, more than anything else, is the changing of the season and the changing of the timezone. When I get up in the morning, it's dark. When I leave the house, it's just about light – at the moment it will have been light for maybe 15 minutes, which of course will drop over the next 6 weeks. When I get home again, it's dark, and it's been solidly dark for well over an hour. Getting a job nearer home would help, but probably not very much, especially in the evenings.
However, there is one benefit to all this darkness. It means we can string solar-powered fairy lights all around the garden, and actually have darkness to see them in.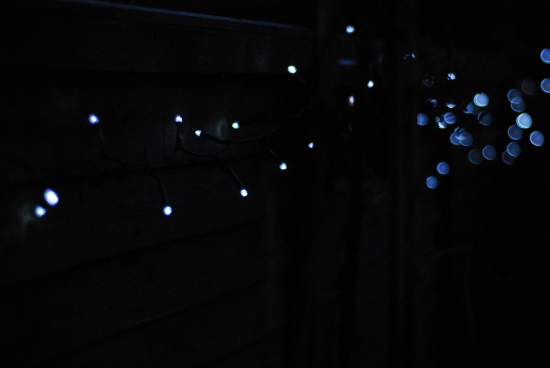 Despite the title of this post, they hardly let you garden in the dark. However, they do look good, when you look out of the kitchen windows, or stand in the middle of the garden late at night and whirl around looking at the lights and the stars.
Coincidentally, since I first drafted this entry – last week after we first put the lights up – I've read something else on night gardens: a post by Bristol-based gardening writer Lia Leendertz on the BBC gardening blog, about designing your garden to make it a pleasant place to spend a winter evening. Sadly we don't have room for hedges or a fire pit, but I do like the idea of a telescope. Maybe I can make do with an SLR, my longest lens, and every teleconverter I can lay my hands on attached. Actually gardening at night will be a harder project to get going.