This morning, I came across an interesting article in The Observer: for many plants and animals, spring seems to have come the wrong side of winter. Animals that should be hibernating are waking up again, and plants are still growing strongly and flowering, possibly because the weather has been unusually mild for the season. It prompted me to go outside into the garden, and have a look at the green bean plants, which we had left on their poles, just stems and pods and a few raggedy leaves, so that the beans we had left on the plant could develop and dry naturally ready for next year. Indeed, what did I find on the green beans? Lots of new buds, some of them just coming into flower. Here's a photo I took this afternoon.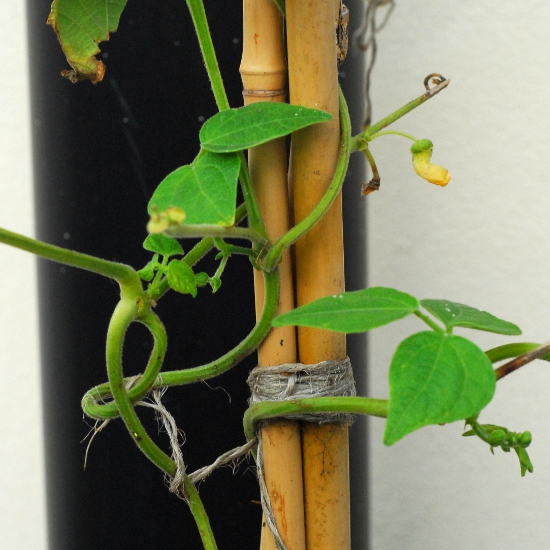 No doubt these flowers are not going to get much further; and they're definitely not going to set fruit because we've not had any bees in the garden for a few weeks now. This weather doesn't seem quite right, though.
There are a few things I did in the garden this week, largely while K was baking the Christmas cake. See, "just coming into flower" and "baking the Christmas cake" aren't phrases that go well together at all if you're north of the Equator. This is what got done:
Pulling up the last of the radishes.
Pruning some of the perennial herbs – the thymes, lavender, feverfew, and mint.
Saving seed that is ready, or almost ready: runner beans, green beans, and coriander.
No doubt I am doing all this at entirely the wrong time of year, but – as far as the pruning was concerned, anyway – it felt like the right time to do it. The beans are for sowing next year; the coriander seeds are probably for the spice cupboard, and the pruned thyme branches were saved for the oven too.