There is one benefit, of course, to leaving the garden to go to seed for a year. It means that the wildlife can get along with things all on their own, without me coming along to pull up their homes and generally keep disturbing things. Whilst clearing the garden up in the past few weeks, we've seen lots of shieldbugs, crab spiders, caterpillars, various different insects and suchlike going about their own business and making the most of the place.
A couple of years ago, we bought a bee house, and nailed it up on the wall of the shed. It saw little use, to be honest, apart from by spiders and a couple of holes filled by a mason bee last year. This summer, though, leafcutter bees have found it, and made good use of it.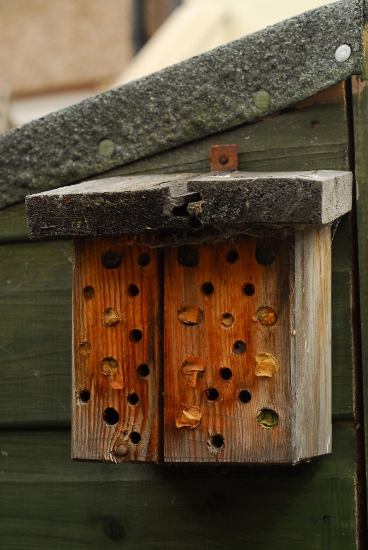 As you can see from the picture, leafcutter bees are quite picky about the sizes of the holes they will lay eggs in. You can also see one of the holes which a mason bee presumably crawled out of earlier in the year. Hopefully, at some point in the spring, a family of newly-mature leafcutter bees will emerge again.
In other news, we have sowed a few flowers ready for next summer: calendula, forget-me-not and borage. Slowly we're drifting away from the original idea of making the garden as edible as we could, but that was never a strictly hard-and-fast rule to start with. They are, at least, all flowers which should please the leafcutters and bumblebees at various times next spring and summer. On the herb front, we've acquired a few stems of bay, and planted them in one of the wastebins used in previous seasons for growing potatoes. Growing potatoes is difficult to justify in a garden the size of ours; hopefully the bay will make a bush to last for a few years to come.