Back in January, I mentioned that all the rosemary in Southville seemed to be blooming. I said at the time that our own rosemary bush seemed to be slowly coming into bud: two months later, it is starting to flower. On Sunday, I noticed one solitary bloom: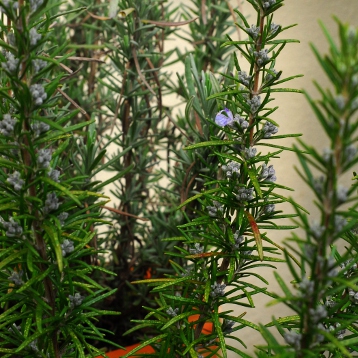 Today, there are rather more: I will have to try to get a less lonely-looking shot.
Yesterday, I spotted that the peas sown last Saturday, and the radish seeds sown back on the 11th, are both starting to poke themselves above the ground now. Looking back, I apparently didn't mention the radishes when I planted them. Last year we grew several batches from a variety packet called "Rainbow Mixed": they were good for science experiments but not much else, as almost all the plants we grew produced lots of foliage but hardly any root. From a box of radishes, we would get maybe one or two which had roots worth eating. This year, then, I've picked a different variety, a German type called "Ostergruß Rosa", sold in this country under the Eden Project's brand name. Supposedly they should turn out with long, French Breakfast-style roots. We shall have to wait and see.