Or, some cardboard engineering
Another weekend, more work on the papercraft pinhole camera kit I've slowly been working on. If you haven't seen the previous installments, part one is here and part two is there.
This time, I spent most of the time on some of the cosmetic detailing. I glued on a whole set of fake camera controls: shutter button, wind-on lever, timer lever and lens mount release button. They're not the neatest job, but they're only there to make the thing look like a camera, so it doesn't really matter if I don't get them quite right. More important is the film take-up spool, which I'm trying to assemble very carefully and slowly because, fundamentally, it has to work mechanically as well as look good.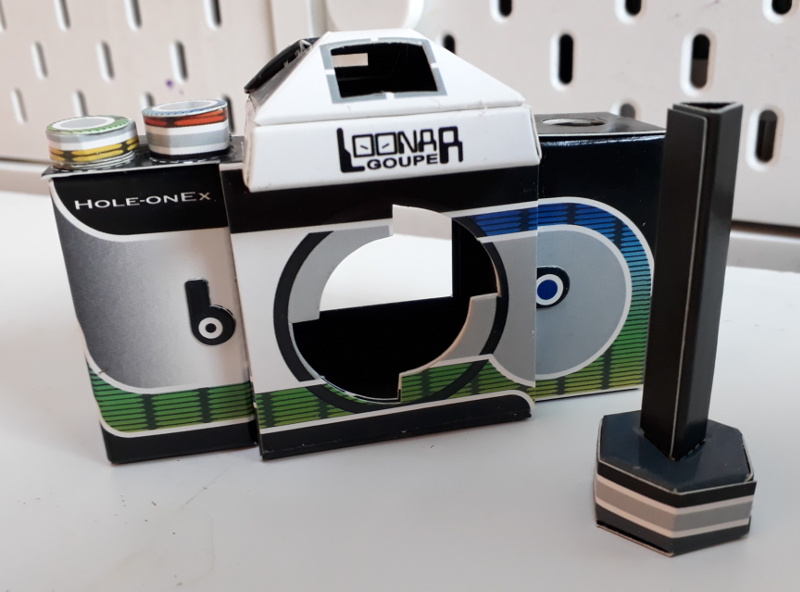 On that photo you should be able to make out that the take-up spool looks as if it has an extra lamination. That's a strip of card added and only glued at the ends. The idea is, the leader is slipped between that strip and the main part of the take-up spool, and that (with a few turns of the spool) that should be enough to hold the film in place. I'm intrigued how well it's going to work.
The other part I made up that is fundamental to the camera's workings is the camera back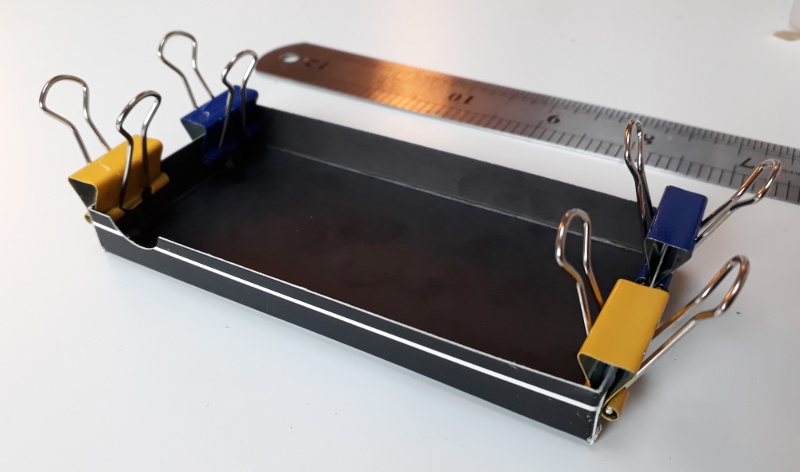 Given that if the back comes off at the wrong time the whole thing is useless, and that the integrity of the back relies on four small corner tabs, I thought it worth holding the whole thing together with foldback clips whilst the glue did its thing. Normally I'd just rely on a good firm squeeze between finger and thumb, but this seemed rather more important. I suspect I'll end up taping the back on with something like washi tape when the camera is loaded in any case, because it's going to be a fine line between a back that's too tight to go on properly and a back that's so slack it falls off.
I'm not sure this camera was really designed to run more than one film through it anyway: as I said last time, the instructions tell you to take the whole thing to your local photography lab rather than try to unload the film yourself. Which would seem a bit of a shame, because how are you supposed to learn from your mistakes with a new camera, and learn how it behaves, if you basically have to throw it away before you get the results back? Hopefully it will cope with at least a couple of films before the back falls apart.