Or, let's not get too crochety
Over the last few months I haven't done much crafting, for one reason and another, but various crafting projects have slowly built up in my mind, a bit like a slowly-filling bath, until the other day someone sent me a link to an amigurumi pattern they thought I might want to buy, and it finally slopped the water all over the edge of the bath that is my mind and onto the bathroom floor that is my working table. Amigurumi, I should say, is specifically a term for making cute cuddly toys out of crochet.
Now, I haven't done any crochet for over ten years, and I hadn't tried to follow a crochet pattern for over ten years before that. On reading the pattern I'd bought, I quickly realised that right this minute my crochet skills are no where near good enough to actually make the thing properly. Rather than give up, though, I started making a trial swatch using the yarn I'd bought, to get used to using it, to remind myself how the various stitches work, and to get used to the difference between American crochet terminology (as used by the pattern) and British crochet terminology (as used by me in the past). They are confusingly similar: to go from American terminology to British you add one to all the names, so a single stitch becomes a double stitch and a double becomes a treble. Within a few minutes really, I had myself a few rows of double single crochet.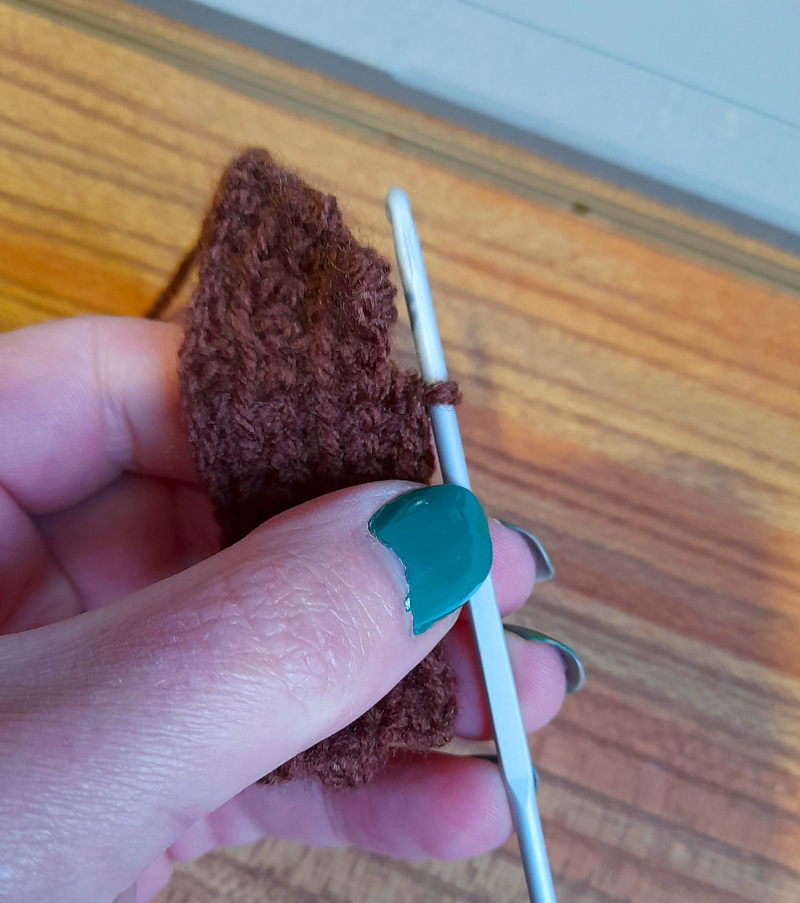 My big mistake was buying the wrong yarn, basically. The pattern said to use "baby yarn", but the shop I went in didn't have the right colours, so I went for "double knit" instead, thinking "well it's the same sort of thickness". The difference is that double knit is twisted from two strands (hence the name, presumably?) and in my hands, the crochet hook is liable to split the yarn when I try to insert it into a stitch or pull through a tight loop.
Making a practice swatch, though, is definitely a good idea if only so I get myself used to how not to do that. Indeed, when a pattern says "insert hook into next stitch", exactly where in said stitch do they mean? A few times in my first few rows I accidentally decreased or increased several stitches, from either skipping my hook ahead too far or accidentally putting it back into the previous stitch, giving my test piece a rather wobbly and wrinkled look.
I'm not going to start the pattern itself until I've done quite a few rows of every stitch it needs, and until I've "got my eye in", reached the point I can look at the piece and see where each stitch is and which part of each stitch each thread belongs to. That was something I learned years ago doing archaeology: you can't just come into a new situation, look at a thing, and immediately parse it all visually, immediately see how the different things slot together. You have to "get your eye in", and let your brain learn how things work in this new context. At first my crochet piece was a uniform brown blob, which is why I made mistakes, but now I'm starting to see what to do.
The next part in this series is here