In which something, for once, is completed
The bad thing about Lego is that if you're just going to build the kit out of the box, it costs quite a lot of money compared to the time it takes to build the thing. The good thing about Lego, though, is that you can actually complete a project in a reasonable amount of time. Regular readers of this blog will be aware just how many half-finished craft projects I post about on here, and just how few completely finished ones there are (um, none). The Lego I posted about last week, by comparison, is already done! After three sessions, the kit is complete. I'm still not entirely sure why it merited an "18+" age guidance on the box, but it certainly did include lots of fiddly bits.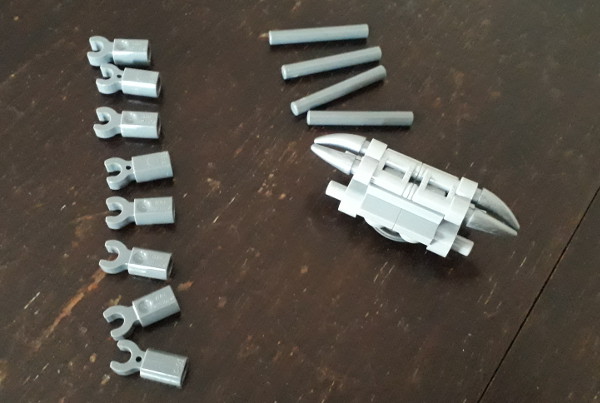 The ends of the pantograph collectors, incidentally are the same Lego element used for the claws of various dinosaur and other animal kits, but in silver.
Whenever I do Lego, I like to take lots of step-by-step photos, so it's always very tempting to start posing the minifigs in positions to suit. I'm not sure they knew how to fit a connecting rod, although Lego rods do make wheel quartering extremely straightforward.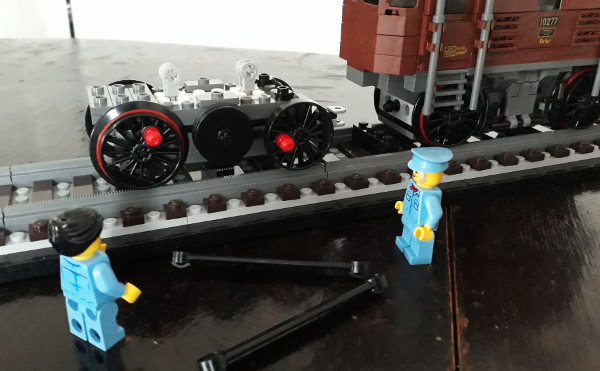 By now the Lego aficionados will have realised that this is the "Swiss Crocodile Locomotive" set slowly coming together. I don't have any Lego track easily accessible right now, so I didn't see any point getting the motor to go along with it; but I would imagine it is always going to be more of a display piece than a usable locomotive. Two flangeless pairs of wheels always seem to ride slightly off the rails, making its wheel arrangement a 1-1-B-1-1 or thereabouts. Still, I think it's going to be quite a nice display piece for the office, when I have all the furniture in the office sorted out.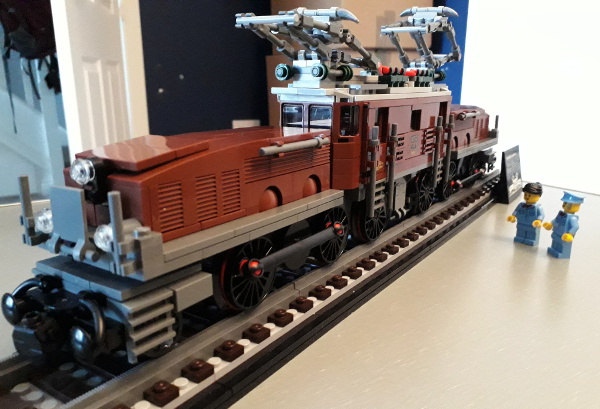 Even if I don't have anywhere to put it properly yet, and even if it is only for display, the minifigs wanted to climb aboard as soon as it was complete.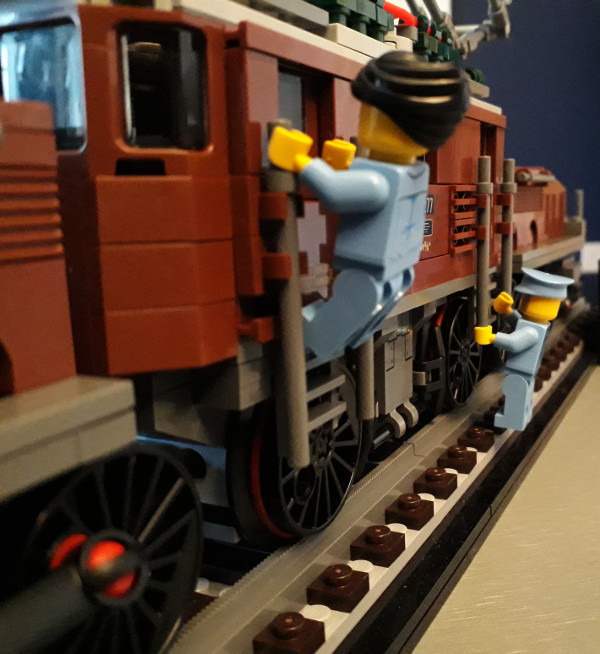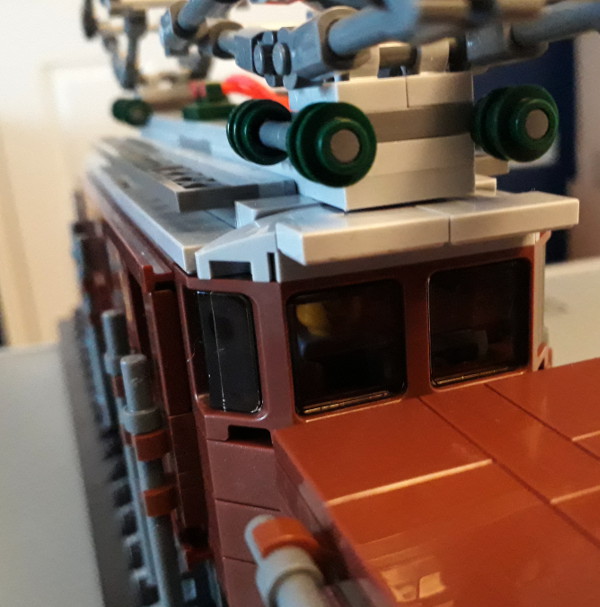 The hardest thing about building this model? Probably the design of the instruction book. A kit with a lot of brown or dark brown parts, with instructions printed on a black background, is not the easiest read. Still, I didn't really go too far astray at any point in the build.
Will this lead to more craft projects suddenly being finished? Will there suddenly be a flood of completed work? Well, stranger things have happened. I certainly shouldn't start any more until there are fewer in progress, certainly.