Wednesday night was New Year's Eve; and, for once, we went out. Counting on my fingers, I worked out, it must be about seven or eight years since I last went out to an event on New Year's Eve, rather than just pop round to a graveyard or a friend's house. Last year, I remember very clearly where I was at midnight: in bed, ill, groaning and wishing the bloody fireworks and cheering would shut up.
This year, though, as I said, we decided we'd go out. Find somewhere which sounded like Our Sort Of Thing, something new to try, and enjoy ourselves. And, indeed we did.
We ended up at the Cube Microplex, the independent cinema off Stokes Croft, for a night called Fascinating Virtue; and fascinating it was, with a stream of small folk-ish, indie-ish bands taking to the stage. One performer, Rachael Dadd,* had flown in from Japan that day, and flung a boxful of Japanese confectionary into the audience for us all to try. One landed right in my lap. We kept the wrapper: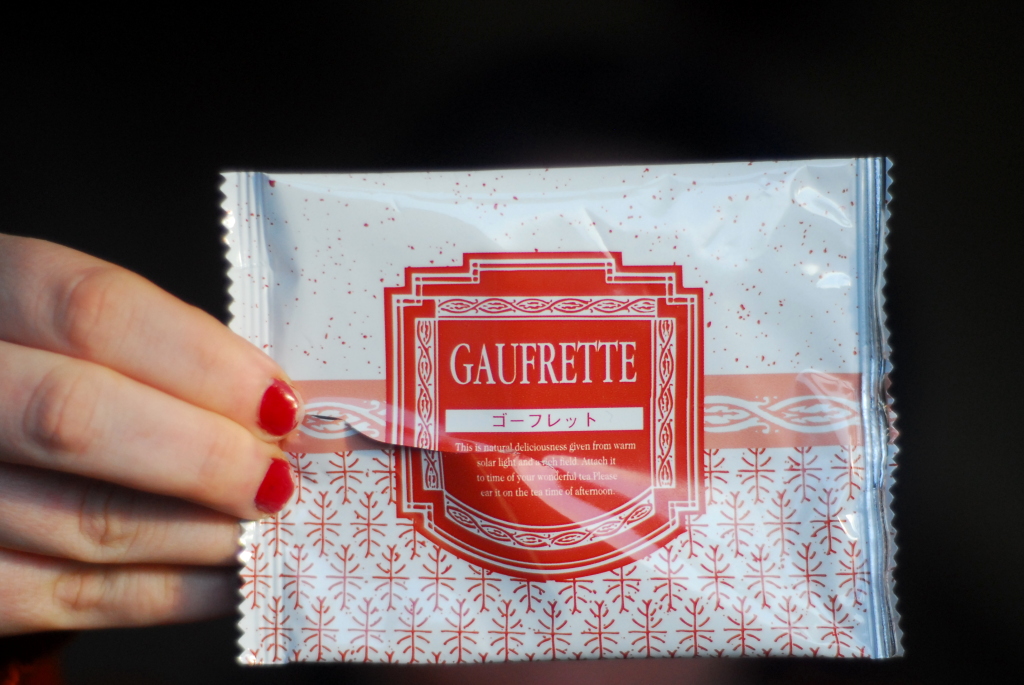 Other performers included alt-folk storyteller Jetfly, quiet harmonium-equipped duo love.stop.repeat, storyteller Hannah Godfrey telling a tall and beautiful tale in-between, and complex local five-piece Boxcar Aldous Huxley. The latter sounded like a cross between the Everything Is Illuminated soundtrack and the Decemberists,** had not only a harmonium but also a saw, clarinet*** and euphonium, and sang lively songs about such things as the Hellfire Club and how debauchery isn't as good as you might hope; or the difficulties of being an astronaut in the 19th century. The stage acts finished with Men Diamler, self-proclaimed drunkest act of the evening, who went on to DJ by the bar for a couple more hours. We danced, energetically; skilfully in K's case, not so much in mine.
K pointed out that often, when you go out on New Year's Eve, it can be a bit of a compromise: you go out to something that you wouldn't normally go to, just because you feel you should be going out somewhere. Fascinating Virtue was an event we'd be excited to go to any day of the year.
* I was tempted to ask her if she was related to the famous mentally-ill Victorian artist Richard Dadd, but I didn't get chance. Which is probably a good thing, because I'd forgotten his first name.
** It was me who thought they sounded like the Decemberists, and K who thought they sounded like the soundtrack. K rather likes klezmer.
*** Any band with a clarinet in has to be a good thing. Except possibly for Supertramp.