Only the other day, I wrote about heading out to visit a castle now that outdoor tourist attractions in Wales are starting to open up again. And now, along comes another post about it! This isn't going to become a blog purely about days out I've taken, honest.
For the past few years, we've gone every spring to the museum at St Fagans, just west of Cardiff. If you're from South Wales you will undoubtedly know of it, but I was always surprised, when we lived only just over the water in Bristol, how many English people don't. Sain Ffagan Amgueddfa Werin Cymru, or St Fagans National Museum of History,* is a museum of Welsh buildings and Welsh life on a grand scale. It was founded back in the 1940s, modelled on the Skansen museum in Stockholm: the grounds of an aristocratic stately home, St Fagans Castle, were slowly filled with exemplars of vernacular Welsh architecture, dismantled and re-erected.
The museum also has indoor galleries, in a huge 1960s-era brutalist building which—after a full refurbishment a few years ago—is a gorgeous example of the period with a wonderfully light and airy atrium space. Naturally, none of that is open at the moment. Nor are the interiors of the historic (or replica) buildings themselves. However, given that visitor numbers are being carefully limited, this does mean that we had a great opportunity to explore the grounds in detail. I should have brought my Proper Camera, because normally you don't get to take photos with nobody else about quite as easily.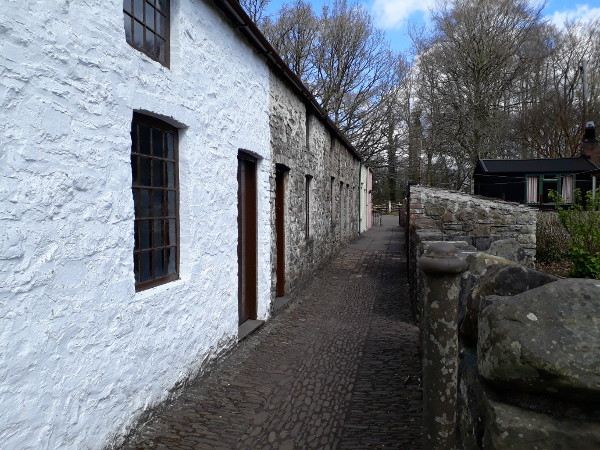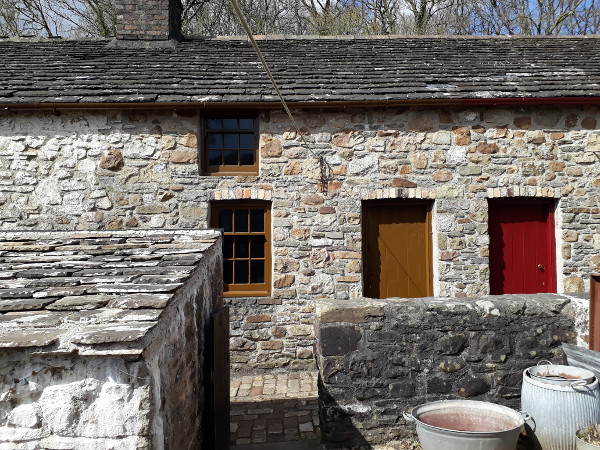 This is Rhyd-Y-Car Terrace, one of the museum's highlights, showing the changes in a typical urban terrace over two hundred years. If nothing else, when you can go inside, it gives parents the opportunity to say "look, this is what houses looked like when I was small," as their children gaze at a 1970s microwave, an early VCR and a model of a plate of fish fingers. The buildings themselves came from Merthyr Tydfil; railway nerds might remember that Rhyd-Y-Car Junction was the point where the Brecon & Merthyr Railway met the Great Western Railway just outside Merthyr station.
The gardens outside the terrace are similarly reconstructed and appropriate to the period of each cottage, with vegetable plots and outside toilets gaining sheds, pigeon lofts and air raid shelters, before being replaced with grass and a greenhouse.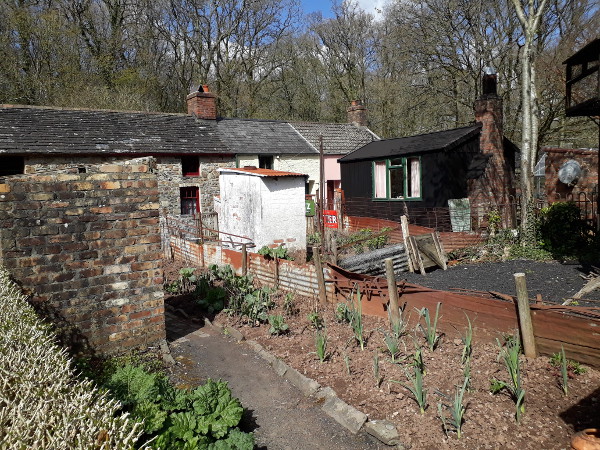 You might remember, back in the mists of time a few paragraphs ago, I said that we always tend to go to St Fagans every spring. The reason for that is: being a museum of Welsh life, it has its own sheep farm—with added geese, ducks, cows and porkers too—and every year lambing season turns into a bit of an event, complete nowadays with the lambing sheds being broadcast online on the museum's "LambCam". By April though lambing season is pretty much over: we could see the lambs in the fields, but not many were left indoors. Still, this one seemed happy to see us.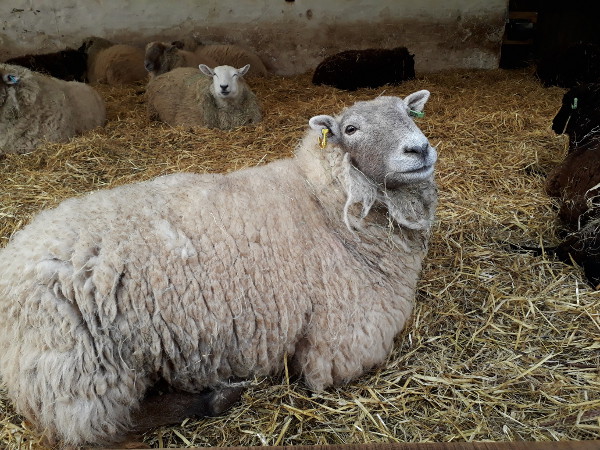 Other signs of spring were everywhere too: the ground carpeted with primroses and celandines, bluebells starting to appear in the woods, and the daffodils still in strong flower. I watched this bee flying round, scratching under grass and leaves apparently trying to dig a hole, before giving up and trying another spot.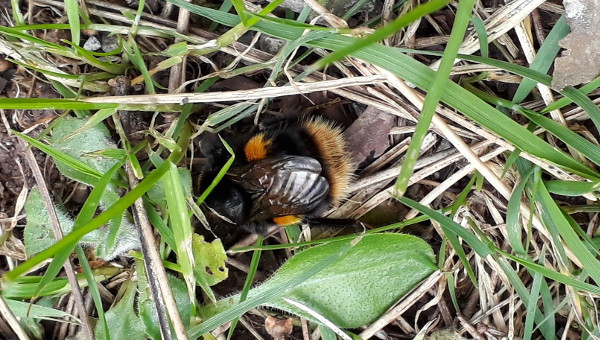 I think she's a queen buff-tailed bumblebee (Bombus terrestris), possibly looking for somewhere to start her nest.
* Translation note: the Welsh name doesn't mean "Museum of History", but it could mean "Welsh Folk Museum" or "Welsh People's Museum". The Welsh name has stayed the same over the years whilst the English one has changed a few times: road signs off the motorway direct you to the "Museum of Welsh Life".